In compliance with the FTC guidelines, please assume the following about links and posts on this site: Any/all of the links on LivingHorizontally.com are affiliate links of which I may receive a small compensation from sales of certain items.

What's So Good About Local by Flywheel? Have you ever had a situation where you are your wit's end and you feel lost as to where to go or what to do on a project. Then something comes along to save the day. I'm lucky to have had that happen for me recently.
I'm working on updating a WordPress website and was struggling. I'd been trawling through some of the tutorials at WPCrafter.com. Membership plugins, payment forms. And then I saw he had one called Live to Local. I watched. Wow. Live with Local an answer for me out of Left Field.
Trying to sell a product with membership capability on a site that had already had some challenges. I was getting along at snail's pace with the work. Internet ain't that fast in our rural area. I'd stripped the current site back to the bare essentials and was still having problems.
He mentioned in the tutorial that he used Local by Flywheel to work on existing sites. I thought I'd do that. So I followed his instructions.
Local Hosting
Local Hosting enables you to work on websites on your local computer. I had tried it before without much success. I had had to build the functionality from scratch and when something went wrong I struggled to find the answer. Another project swept under the carpet.
And here was LOCAL – Download for free and away you go. So I went. I took advantage of the free download. I backed up the site I was working on using the plugin WPVivid. The plugin worked as per instructions and I restored it on the site I'd set up on my computer with LOCAL. I continued working on the site but became more and more bogged down. I decided to simplify what I was doing.
I set up a new site. A blank canvas. Started with the basics: a Security plugin, (ithemes security), an SEO plugin (I use RankMath) and an E-Commerce plugin – WooCommerce. I'll add an image optimizer as well later.
Those plugins and others associated with WooCommerce and the Themify drag and drop builder I use with WordPress were enough to create a site. We were good to go with a shop front for the product my customer wanted to sell.
I used the download for free option to begin my journey to completing this refurbishment of the website. As it was a favour I wanted to be able to use its function to provide a "client" with a code so they were able to have a look at the work I'd done so far. Unfortunately, this functionality is unavailable on the download for free. I had to create an account to do this. And so away I went. Things become clearer the further you get into them.
When you've created your account you can begin to set up a site. When you open your dashboard there's a plus + sign in the bottom left-hand corner. You'll be taken to a new page where the setup process begins.
You start with a name. If you've already got a domain name use that. Have a look at the advanced options to familiarise yourself. I don't think you'll need them.
Next set up your environment. If this is a site you are building from scratch you can start with the Preferred option. If you have to migrate a backup from a site currently in use you may want to use the Customise option to fit the environment your site was created in.
Then it is just a matter of setting up WordPress. If you already have an account with WordPress use those details. If not create a user name and password and add an email. There's an email preloaded but just add a personal email.
Then create your site.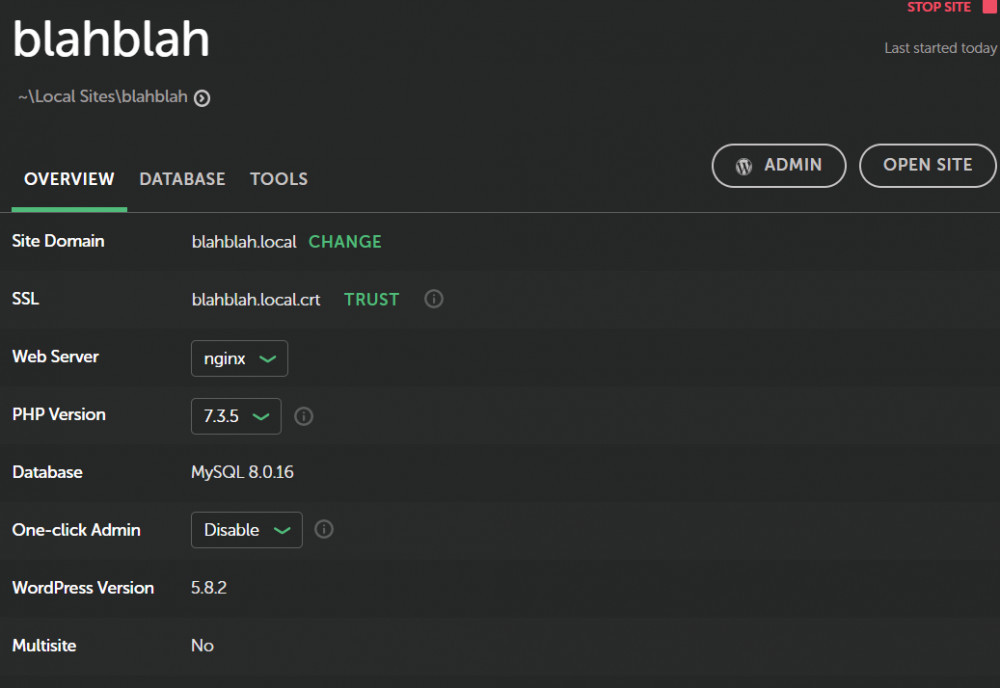 If you click on trust it'll create an SSL certificate. Each time you sign into your site you'll have to click trust and follow the prompts. Once you've done that click on the admin button to go to your dashboard and click on Settings and General.
You should see this on the page:

After the HTTP add an s in each of these addresses and then go down to the bottom of the page and save the settings. This will enable the SSL for your site. Check it from time to time in your browser's address bar to make sure the s's are still there.
You're ready to start the business of creating your site.
Content
If you've found this you've probably already dipped your toes in WordPress and perhaps you're looking to expand your knowledge.
What are you interested in? Is this a personal blog you're wanting to bring to a wider audience? it could be that you're a budding photographer with pictures and techniques to share with like-minded people. It may be a hobby or a health issue you've dealt with and want to bring the things you've learned to others that may need them. Any of these ideas have the potential to earn you some income through affiliate marketing when you refine your niche.
When you've got your niche sorted it is time to start mapping out content for it. If you've ever been part of a group brainstorming with a group of people and someone writing ideas on a blackboard or a whiteboard you'll know where to start just do something similar on a sheet of paper and then transfer them onto a spreadsheet or word document. Now you've got a plan.
Themes
At the top of the Appearance Tab on the WordPress Dashboard are Themes. When you click on that you'll be taken to the themes page. These will be the themes that are installed with your site. If there's none there click on Add New and a banquet of themes will appear before your eyes. The images above are but 6 of the many that are available.
If one leaps out at you pick that one, otherwise start out with a simple theme. The ones that are named for the years Twenty-Twenty, Twenty-Nineteen are the simplest and easiest to start with.
When I first started out it was with a simple theme. As time went on and I saw what other sites did I wanted that sort of functionality for my site. The free themes just didn't cut it so I started to invest in the premium versions. And then I tried themes with drag and drop builders.
These became a great home for the ideas I wanted to express. And Local by Flywheel is the laboratory where I can experiment and finally bring these pages to life and then publish them through a host.
Working Locally – Publishing Globally
As a newbie Local by Flywheel gives you the opportunity to cut your teeth, learning how WordPress works. Find out how the plan we talked about earlier can become real on the internet.
Once you've got your head around how WordPress can become the vehicle for your online presence you'll then need to settle on a good domain name and find a hosting provider. If you feel you need more training and a community of like-minded folk you could try joining Wealthy Affiliate. Wealthy Affiliate will teach you how to monetize an offering you have if that's the direction you're seeking.
For those who have got some time online under their belt Local is a great opportunity to expand your skills. One of the most useful aspects of Local by Flywheel is the ability to create Blueprints of the sites you create. If you're looking at developing a clientele for your designs this is a great start.
If you make a mistake learn from it and move on. In WordPress there is the opportunity to go back and check different revisions. You can do start over from a place where it was working for you.
Above all have fun!
Blessings